SINGING IN PERSON AGAIN
For the first time in eighteen months, we've found ourselves singing in person again. We're outdoors for the time being, suitably distanced, making the music we love in the pastoral setting at the country residence of Susie Bell and our late friend and chorus president, Sandy Bell.



What a joy it has been to be together again, hearing each other's marvellous voices for the first time in so long. Although we've been faithfully rehearsing via Zoom since the pandemic took hold, there's no substitute for standing in the ranks, surrounded by the glorious sound of barbershop harmony. Rehearsing from home, the only voice any of us could hear was our own, accompanied by the learning tracks in our earbuds.
Everyone in attendance is double-vaccinated, and some wear masks when not actually singing. Before the formal rehearsal begins, many of us join in some informal singing of old-time favourites. It's not polished, but it is fun!
As time goes on, we hope to get back to our regular indoor rehearsals, standing side by side on the risers. Out of an abundance of caution, however, we shall be guided by the best public health advice.
You can hear us at--- https://www.harbourtownsound.ca/ Needless to say, everyone is stoked to be back!
* * * * * * *
UPCOMING EVENTS
••• 11 August 2021 and onwards •••
Resumption of In-Person Rehearsals
Outdoors at Residence of Susie Bell
••• December 2021 •••
Annual Christmas Show
(pandemic restrictions allowing, details to come)
••• July 2022 •••
Charlotte International
BHS International Convention, Charlotte, NC
Harbourtown Sound in performance, representing the Ontario District in friendly competition with thirty male Barbershop choruses from around the world

* * * * * * *
LET US HEAR FROM YOU
If you're a fan and friend of Harbourtown Sound, we'd love to hear from you. Your suggestions for songs you'd like to hear, your ideas for future performances, or constructive criticism of our endeavours---all would be helpful to us.
You can send us your thoughts by clicking this link--- president@harbourtownsound.ca
* * * * * * *
REMEMBERING ANDY DENNETT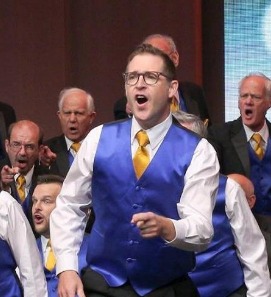 It broke the hearts of everyone in the Harbourtown Sound family to learn that Andy Dennett has passed away. Andy had been dealing with cancer for the past few years, and took it on with all the humour and irreverence that he brought to every situation. By now, he's doubtless making a big scene and ringing chords with his father, Peter, who left us earlier this year, and with his other barbershop heroes.
Andy leaves behind his wife, Ash, and 11-year-old son, Edward, as well as his mother Anne and sister Robyn and her family. The family has held a private cremation and memorial ceremony, and plans are in motion for a celebration of life for Andy and Peter at Harmony Ranch.
From the beginning, Andy threw himself wholeheartedly into barbershopping, quickly becoming an indispensable member of Harbourtown Sound. He sang lead with PAGE 4, one of the most beloved quartets at district conventions, and served in many capacities at the chapter level with both Harbourtown Sound and Toronto Northern Lights.
Andy was honoured by the Hamilton Chapter as the recipient of the 2019 Barbershopper of the Year award, and by the Toronto Chapter with their nearest equivalent: Brian's Medal. He was an active member of our District Management Team, and was honoured by the district with a 2020 Barbershopper of Renown recognition.
Like his father before him, Andy will be sorely missed by his comrades on the risers.
A musical tribute to Andy may be found at this link--- https://www.youtube.com/watch?v=YiUlR6kjqtw
* * * * * * *
INTERNATIONAL CHAMPIONSHIP 2022
For two years in a row, the Barbershop Harmony Society World Championship was cancelled---first, Los Angeles, CA in 2020, then Cleveland, OH in 2021.
Harbourtown Sound represented the Ontario District at International in Las Vegas, NV in 2014, Pittsburgh, PA in 2015, and Nashville, TN in 2016. We qualified to go to Las Vegas again in 2017, but declined, then competed in Orlando, FL in 2018.
We had qualified for the Los Angeles and Cleveland events, and now Harbourtown Sound has been informed that we will be receiving an invitation to participate in the 2022 competition in Charlotte, NC. There are more than 800 choruses in the BHS, and only thirty qualify for International each year. We are looking forward to getting back to the big-time!
* * * * * * *

NAMES TO KNOW
Ted Byers, President
Phone: 416-686-1312
Email: byers5@rogers.com
Jordan Travis, Music Director
Phone: 289-838-9493
Email: director@harbourtownsound.ca
Scott McCarthy, Assistant Director
Phone: 416-452-8532
Email: scott@ombdynamix.com
Mark Yung, VP Secretary
Phone: 905-417-1052
Email: secretary@harbourtownsound.ca

Jim Taylor, VP Treasurer
Phone: 226-486-2295
Email: treasurer@harbourtownsound.ca

Vic Linka, Chorus Manager
Phone: 289-937-1905
Email: viclinka@hotmail.com
Jim Boyd, VP Marketing
Phone: 905-973-7007
Email: marketing@harbourtownsound.ca
© 2021 HARBOURTOWN SOUND