Harbourtown Sound Spring Show - June 4, 2022 - 2:00 pm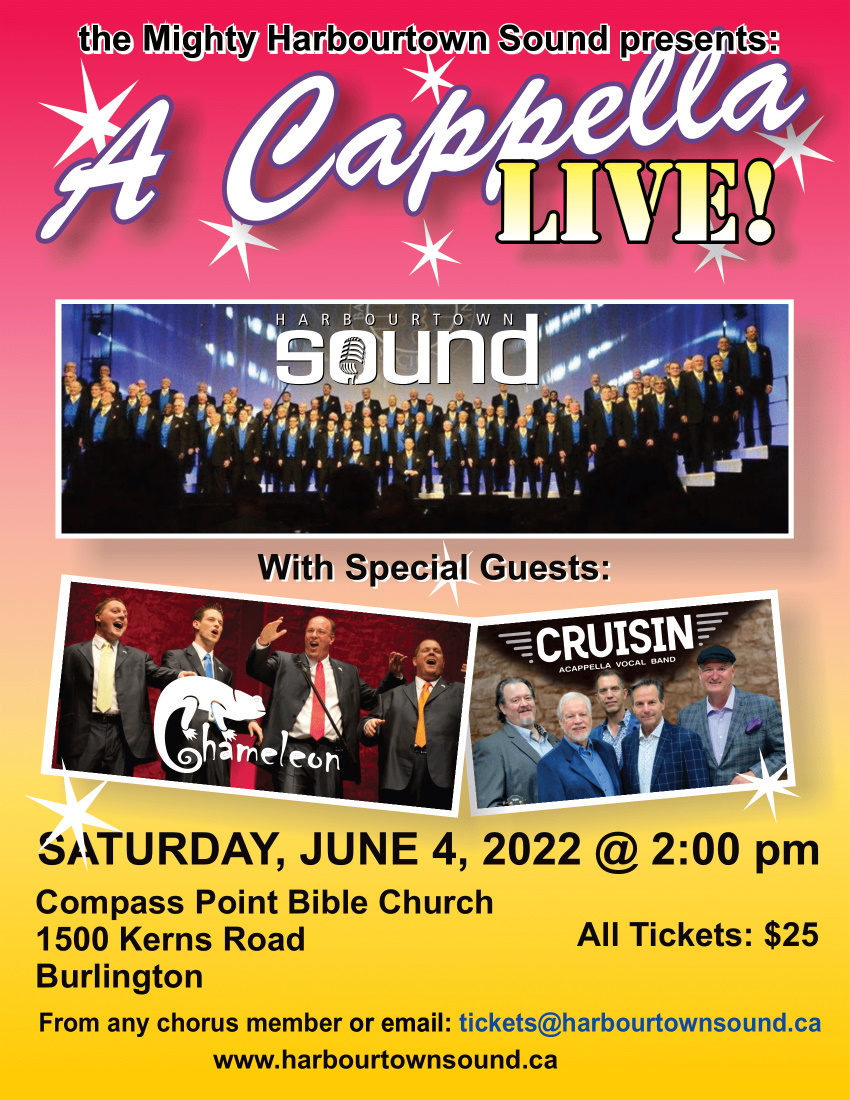 Join us for an afternoon of live music when The Harbourtown Sound perform their first spring show in 3 years.
Special guest quartets: Cruisin & Chameleon

Saturday June 4, at 2:00pm
at Compas Point Bible Church,
1500 Kerns Road,
Burlington
Tickets $25, Ask any HTS Member
or send ticket request to:
tickets@harbourtownsound.ca
with payments sent using eTransfer
to treasurer@harbourtownsound.ca
Please note that the singers will be masked and we expect our guests to be masked.
May 7 - Harbourtown Sound Men's Chorus Performed at Fire Chiefs' Memorial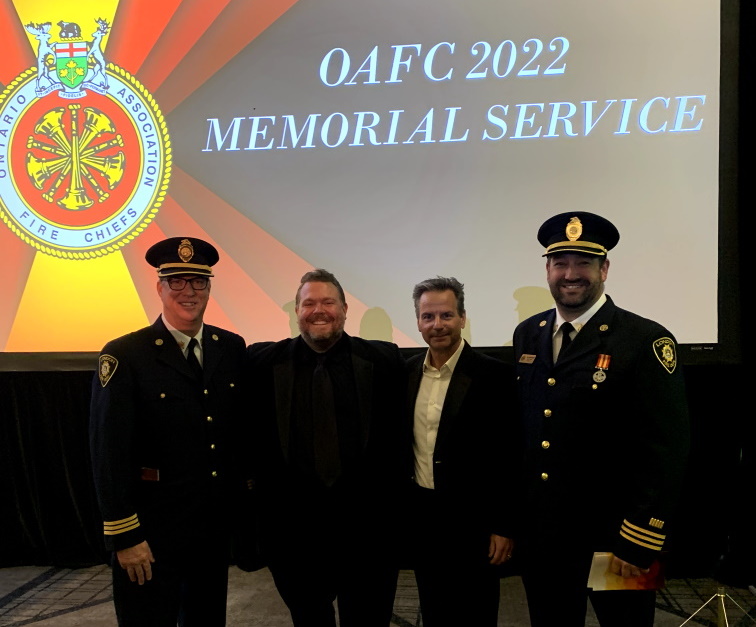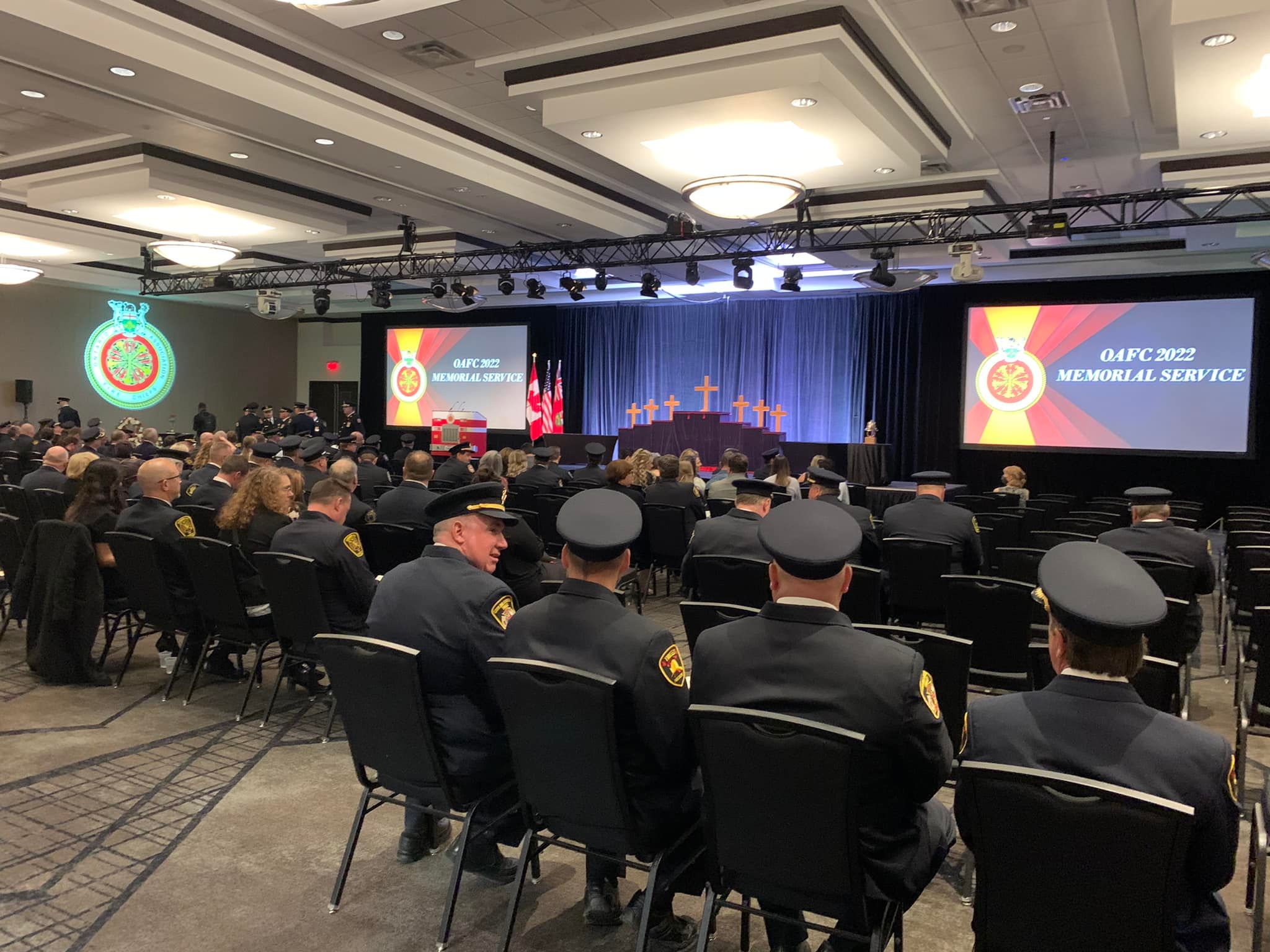 Harbourtown Sound performed for the Ontario Association of Fire Chiefs at its annual memorial service on 8 May 2022. The service wrapped up a week-long OAFC convention at the International Conference Centre in Mississauga.
The OAFC represents the Chief Fire Officers from 441 Fire Departments across the province in leading innovation and excellence in Public and Life safety.
The chorus sang God Save the Queen and O Canada, followed by Let There Be Peace On Earth and Hallelujah. Following the service, chorus members sang All Of Me, together with a number of familiar song tags.
Harbourtown Sound has performed at the OAFC convention several times in the past, in keeping with its mission to support community, business, and charitable organizations, as well as senior citizens and school children, in the greater Halton-Hamilton region. This was the first OAFC memorial service held since 2019 because of Covid restrictions, and in that time, twenty-eight Ontario Fire Chiefs have died.
Bike for Mike - Harbourtown Handlebar Harmonizers - Sunday May 1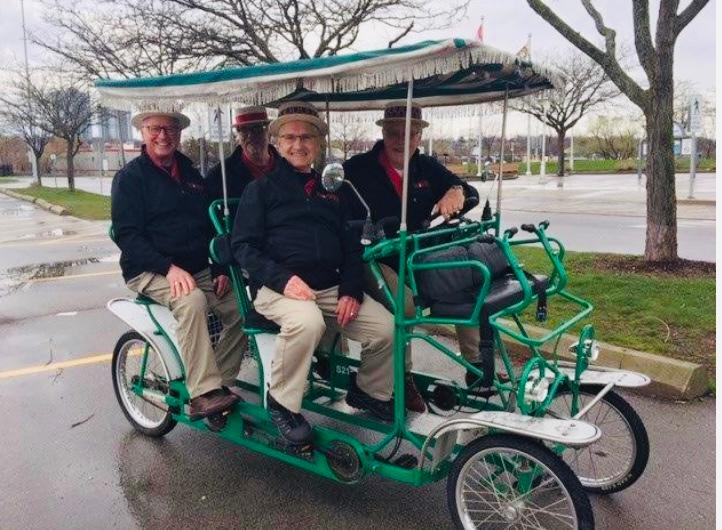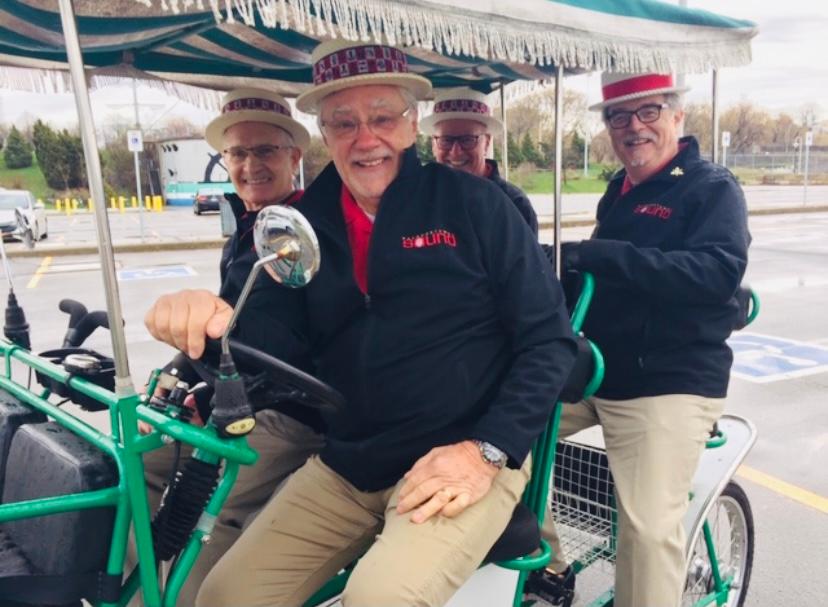 On Sunday May 1st, a quartet from our chorus entertained the crowds at the Bike for Mike event in Hamilton. We may add that they got to drive around in an amazing bike we feel is perfect for a barbershop quartet!
A big thanks to Paul Wagg (bass), Ed Johnson (baritone), Ron Coulter (lead), and Richard Heuss (tenor) who entertained the crowds at the Bike for Mike event today. We hope you stayed dry and enjoyed riding the perfect quartet bike as well as singing up a storm! Troupers all, in the true HTS spirit.
At Bike for Mike, the mission is to get kids physically active on a daily basis because of the transformative effect this can have on the way they experience the world. We do this by creating better opportunities for them to walk/wheel to school. This is the one activity that we can think of that benefits their physical, cognitive, and mental health, their independence, and teaches them the value of environmental stewardship. Our aspiration is to get 100% of students walking/wheeling to and from school on a daily basis.
Event Information: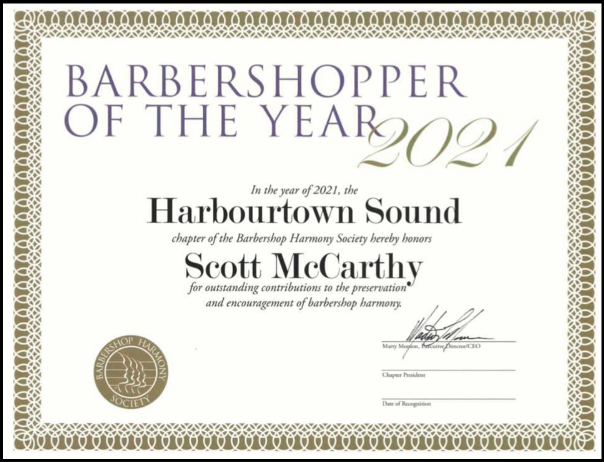 Congratulations to our Barbershopper of the Year, Scott McCarthy. Scott has worked above and beyond coaching Harbourtown to make our sound the best it can be.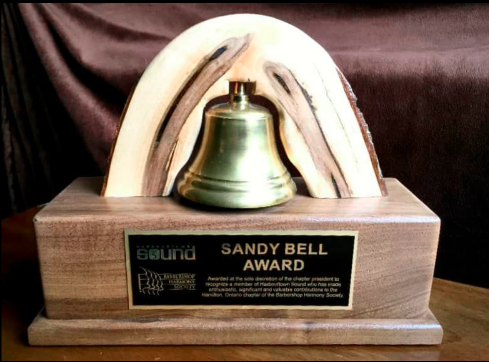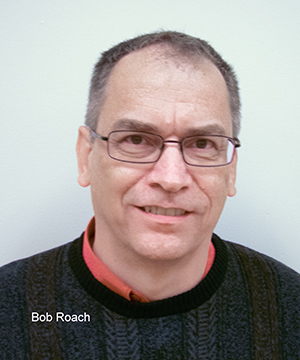 Congratulations to our Sandy Bell Award Winner, Bob Roach, who has tirelessly helped the Harbourtown Chorus achieve it's marketing and fund raising goals.
Apr. 3, Amazing David Wright coaching session!

Our journey back from Covid and becoming a better improved chorus has taken a big leap forward with the coaching session led by David Wright. David is a giant in the Barbershop world and will help us move toward achieving our goals in performance and in contest. The session was incredible and everyone is still buzzing!
Dec. 4 - Wow, what a great Live Christmas Concert!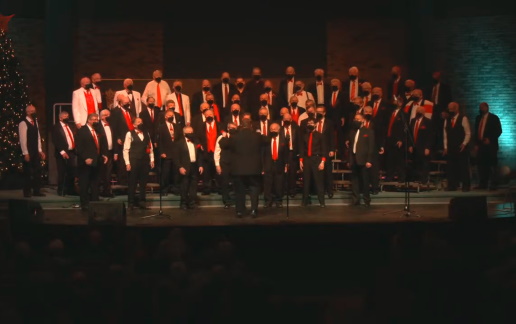 Harbourtown Sound and A Cappella Showcase thrilled the audience with a wonderful Christmas Concert at Compass Point Bible Church on Sat. Dec. 4, 2021 The first live concert in 2 years. We sang to a sold-out audience for our matinee and a well attended evening show.
Have some questions about singing with Harbourtown Sound
Watch this video to provide some answers to your questions