Announcing Harbourtown Sound's Christmas Shows
Saturday, November 23, 2019 - 2:00pm & 7:30pm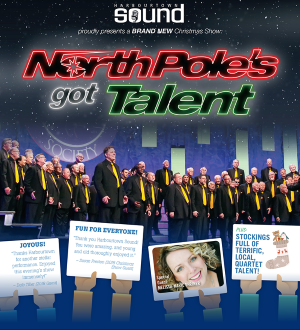 Harbourtown Sound presents "North Pole's Got Talent", a Christmas Musical Show suitable for adults and children alike. Performances at the Burlington Performing Arts Centre, 440 Locust St, Burlington.

Hamilton's gold medal-winning Harbourtown Sound men's chorus will present its annual Christmas show--- North Pole's Got Talent---at the Burlington Performing Arts Centre on Saturday, 23 November.

The first half of this year's show will feature the many talents of several performers as they vie to replace Santa Claus at the North Pole. Jack Frost, Frosty the Snowman, Ebenezer Scrooge, the Grinch, and even Kermit the Frog will strut their stuff for the panel of judges.

The second half of the programme will showcase the seventy-five men of the chorus filling the theatre with their joyful and heartwarming music of the season.

The special guest this year is Melissa-Marie Shriner, well known for her performances in recitals and concerts throughout southern Ontario and upstate New York. She has performed with the Avanti Chamber Singers, as a guest soloist with Choralis Camerata, with The Melissa-Marie Shriner Jazz Trio, and as the featured artist at the TD Niagara Jazz Festival. Her jazz endeavours include a recording, A Christmas Love Song, a throw-back to the classic holiday recordings of the 1940's and 50's.

There will also be loads of local quartets on stage to fill up your musical Christmas stockings.

The matinee performance will start at 2:00 pm. An evening performance will follow at 7:30 pm. Tickets are still available from the BPAC box office.

Adults: $35, Seniors: $30, Under 18: $20. Tickets available from any chorus member or online at the BPAC website: burlingtonpac.ca or by calling 905-681-6000.