Harbourtown Sound - Home For The Holidays
Dec 11 - Dec 31, 2020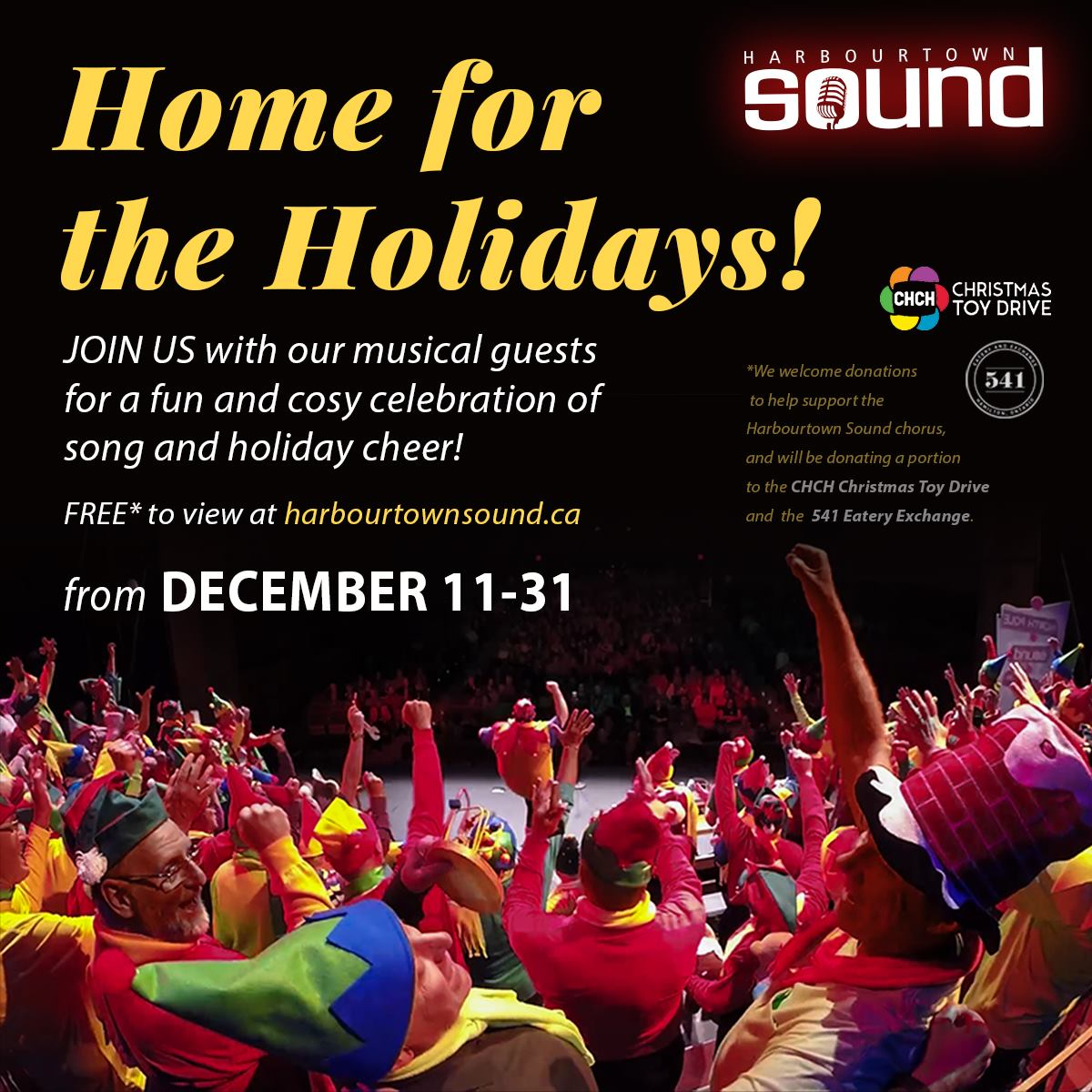 This time of year, we are normally getting dressed as elves to share with you, our family, friends and fans, a celebration of holiday cheer. Although this year has definitely been different, we WILL be sharing our music and song with a compilation movie, featuring past and present performances. On December 11th, we launch "Home For The Holidays!" featuring the Harbourtown Sound and some very special guests. You can view all of this for FREE on our website. Donations are welcomed as we will be giving a portion of our proceeds to both the CHCH TV Toy Drive as well as the 541 - Eatery & Exchange!
.
We're Still Singing!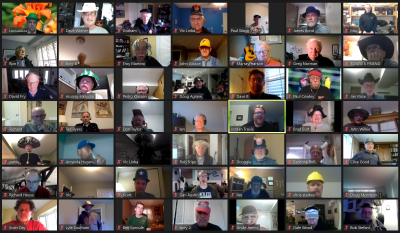 We're adjusting to our new world and as barbershoppers we've found a new way to make music. Hamilton Harbourtown Sound's rehearsals now look like this, and the amazing thing is that we don't even have to explain what this is. It's very common now and even though we can't physically rehearse together, it's a great way to get in some music, link up with everyone and keep in touch with our chorus family in these stressful times.
Harbourtown Sound Men's Chorus Cancels Spring Activities
Along with many other arts organizations during this unprecedented time, Hamilton's premier a cappella men's chorus, Harbourtown Sound, has announced the suspension of its spring activities for the foreseeable future. This decision cancels the annual spring show that had been scheduled for 6 June 2020 at Compass Point Church, and all other chorus activities.
Harbourtown sends love to the Hamilton Area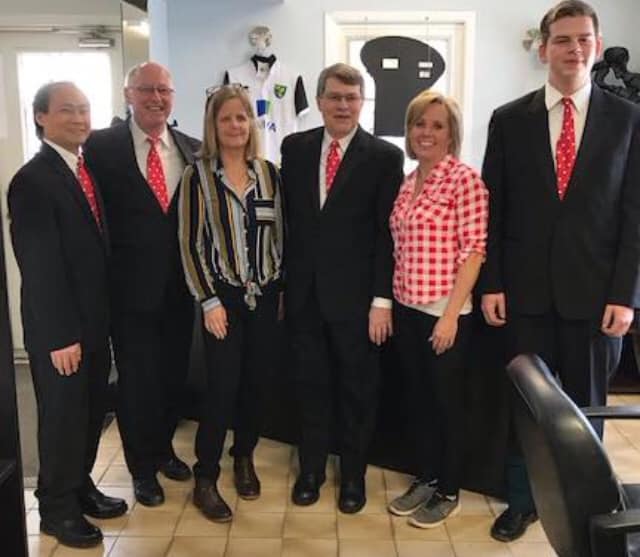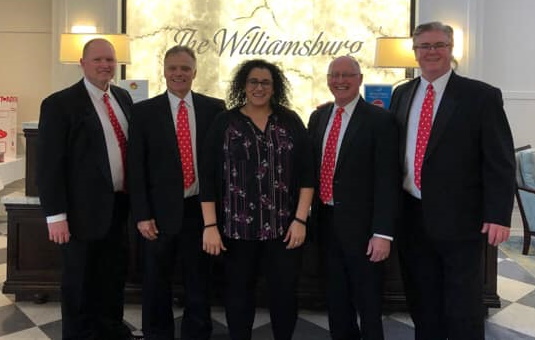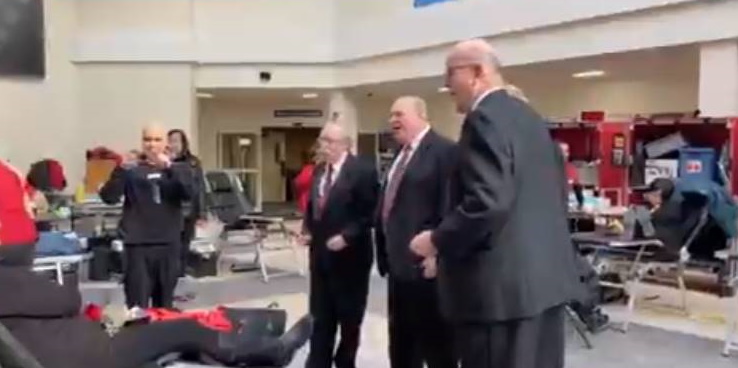 Surprised and thrilled Happy Valentines Day recipients of a love song, a rose and much love. We shared a Happy Valentines wish in the form of a song in more than 20 places over the Valentines days event. As a real surprise one of quartets sang at the Blood Donor Clinic in Mississauga.
Harbourtown Sound's Christmas Show - NORTH POLE'S GOT TALENT
Saturday, November 23, 2019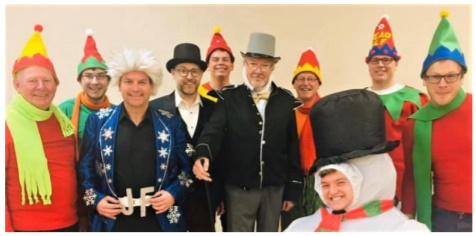 A motley cast of characters showed up on 23 November to audition for North Pole's Got Talent, the annual HTS Christmas show at the Burlington Performing Arts Centre. Somehow, it seemed like a good idea to a couple of elves to audition replacements for Santa Claus, so Jack Frost, Ebenezer Scrooge, the Grinch, Kermit the Frog, and Frosty the Snowman all took to the stage during the show's first half to make their pitch.

Although all of them performed very well, indeed, cooler heads prevailed among the judges, and good ol' Santa
2018 International Chorus Competition in Orlando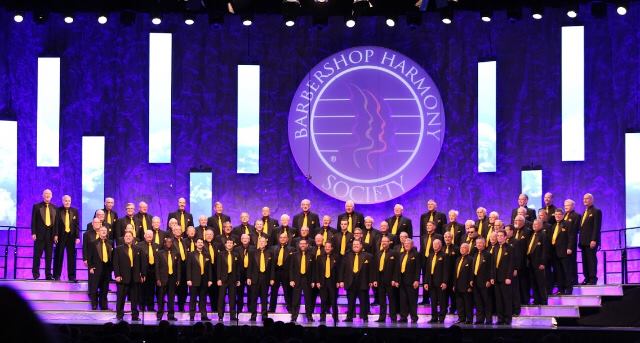 Congratulations to Harbourtown Sound for a wonderful performance as the Ontario District International Representative Chorus. This is Harbourtown's 4th appearance at internationals. The previous competitions were in Las Vegas, Pittsburgh and Nashville.
Orlando Performance -
You Belong to Me
&
You'll Never Walk Alone