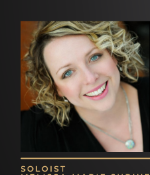 Soprano
Melissa-Marie Shriner
is well known as a versatile performer in recitals, concerts, and self-produced shows throughout southern Ontario and upstate New York. In 2018, she was thrilled to be nominated for an Establish Artist Award for the
St. Catharines Arts Awards
.
Her jazz endeavours include a recording,
A Christmas Love Song
, a throw-back to the classic Holiday recordings of the 1940's and 1950's.
Ms. Shriner holds a solid reputation as a vocal pedagogue through
Melissa Shriner Music Studio
in Jordan Station, and serves as vocal/choral workshop clinician at various high schools in the Niagara Region. She has performed with
Harbourtown Sound
on previous occasions, and we are delighted to welcome her back to this year's Christmas show.