SPRING SHOW
Our Spring Show, A Cappella LIVE, is scheduled for Saturday, 4 June at 2:00 pm, at Compass Point Bible Church.

We are excited to be singing for live audiences again, and the show promises to be a super-entertaining event. Chorus members will be masked throughout the performance, and audience members are encouraged to do the same. Everyone is asked to conduct a Covid self-assessment before attending.
If you are looking forward to joining us, tickets are $25, and may be ordered online from tickets@harbourtownsound.ca, and pay by e-transfer to treasurer@harbourtownsound.ca. But don't delay.....tickets are going quickly.
Compass Point Bible Church is located at 1500 Kerns Road, running north off North Service Road, west of Brant Street, north of Hwy 403 in Burlington.
To whet your musical appetite, here are two YouTube clips of songs we performed at our international championship appearance in Nashville, TN---
If you've ever been to one of our shows, you'll agree, I'm sure.....it's worth the drive to Burlington!
* * * * * * *
ONTARIO FIRE CHIEFS' MEMORIAL
Harbourtown Sound performed for the Ontario Association of Fire Chiefs at its annual memorial service on 8 May. The service wrapped up a week-long OAFC convention at the International Conference Centre in Mississauga.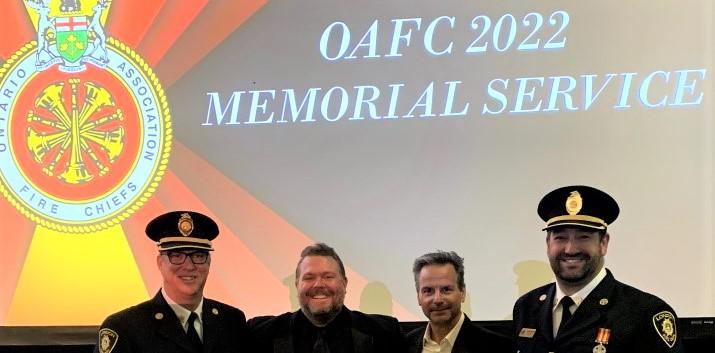 The OAFC represents the Chief Fire Officers from 441 Fire Departments across the province in leading innovation and excellence in Public and Life safety.
The chorus performed God Save the Queen and O Canada, followed by Let There Be Peace On Earth and Hallelujah. After the formal service, chorus members sang All Of Me, together with a number of familiar song tags.
Harbourtown Sound has performed at the OAFC convention several times in the past, but this was the first OAFC memorial service held since 2019 because of Covid restrictions. In that time, twenty-eight Ontario Fire Chiefs have died.
* * * * * * *
IMPORTANCE OF EATING WELL
Harbourtown Sound is pleased to offer our members and friends the perfect opportunity to stock up on delicious meats for bbq season by taking part in our annual fundraising drive, underway now.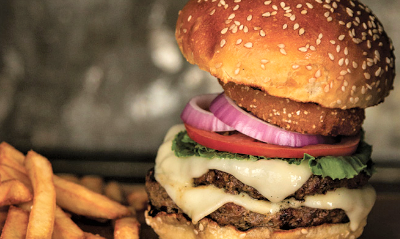 Chorus manager Vic Linka and his team have arranged with North Country (MacGregor Meats) to provide us with the very best choice of meat and seafood again this year.
You can view the extensive product offerings and place an order by contacting Vic directly at viclinka@hotmail.com.
Folks who have ordered in the past have raved about the quality and taste of the meat and seafood available, and many are placing their orders now.
* * * * * * *
2022 INTERNATIONAL
Because Harbourtown Sound had qualified for the 2020 Barbershop Harmony Society International Convention in Los Angeles, CA (which was cancelled because of COVID, as was the 2021 Convention in Cleveland), we were expecting to compete in the 2022 International in Charlotte, NC this summer. Out of an abundance of caution, however, we have decided not to attend.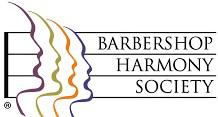 After resuming in-person rehearsals last fall, the chorus learned two new songs to perform in Charlotte, a lovely ballad and a more up-tempo song. Those songs and many others from our repertoire will be featured for our audience at our spring show.
We hope to see you and your friends there!
* * * * * * *
BIKE FOR MIKE
On Sunday, 1 May, a quartet from our chorus entertained crowds at Bike for Mike in Hamilton. We may add that they got to drive around in an amazing bike we feel is perfect for a barbershop quartet!
A big thanks to Paul Wagg (bass), Ed Johnson (baritone), Ron Coulter (lead), and Richard Heuss (tenor), who entertained the crowds at the event. We think they stayed dry and enjoyed riding the perfect quartet bike as well as singing up a storm! Troupers all, in the true HTS spirit.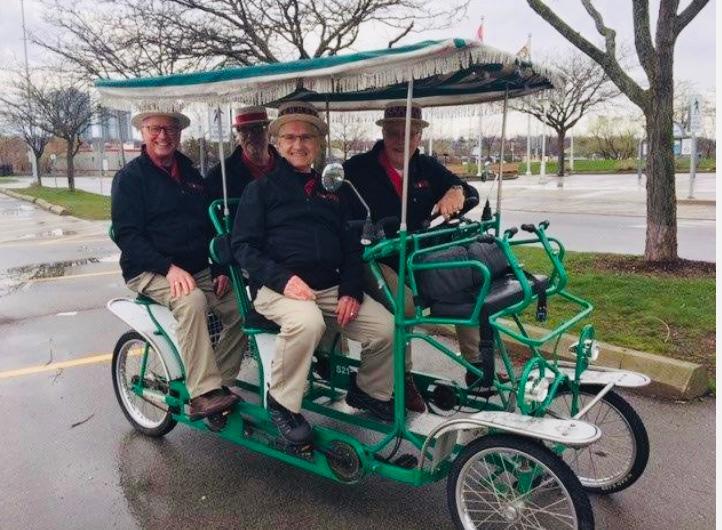 At Bike for Mike, the goal is to get kids physically active on a daily basis by creating better opportunities for them to walk/wheel to school. This is one activity that benefits their physical, cognitive, and mental health, their independence, and teaches them the value of environmental stewardship. The objective is to get 100% of students walking/wheeling to and from school on a daily basis.
This quartet's participation is in keeping with our HTS mission to support community, business, and charitable organizations, as well as senior citizens and school children, in the greater Halton-Hamilton region.
* * * * * * *
NEW MEMBERS
Do you enjoy singing in the shower or in your car? Are you secretly wondering what it would be like to blend your voice on stage with our 80-man chorus? Well, wonder no more! Just email our membership leader, Brian Cameron, to visit one of our rehearsals; his address is membership@harbourtownsound.ca.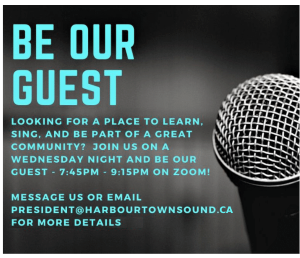 Since the beginning of November 2021, Harbourtown Sound is delighted to have added five new members who made that call, and are now singing on the risers with us: Steve Bendo, Steve Bernstein, Dave Dodds, Dan Locke, and John Smith.
In addition, we have welcomed two associate members who participate virtually in our rehearsals on Zoom: Mike McKim and Robert Smith.
Welcome to all!
* * * * * * *
CONCERTS IN THE PARK
Harbourtown Sound has been invited to perform a number of songs from our repertoire at the 2022 Art In The Park Festival on 16 July in Woodstock.
We have also been invited to sing in the City of Burlington 2022 Concerts in the Park series, on 24 August. Our 90 minute performance will run outdoors from 7:30 – 9:00 p.m. at the Central Park Bandshell in Burlington.
We hope many of our family and friends will plan to attend what are sure to be wonderful evenings of ringing chords and beautiful harmonies.
* * * * * * *
* * * * * * *
* * * * * * *
THE SOUNDwaves LIGHTER SIDE
This is not part of our audition process for new members…..which is a good thing, or only our director and assistant director would have survived it!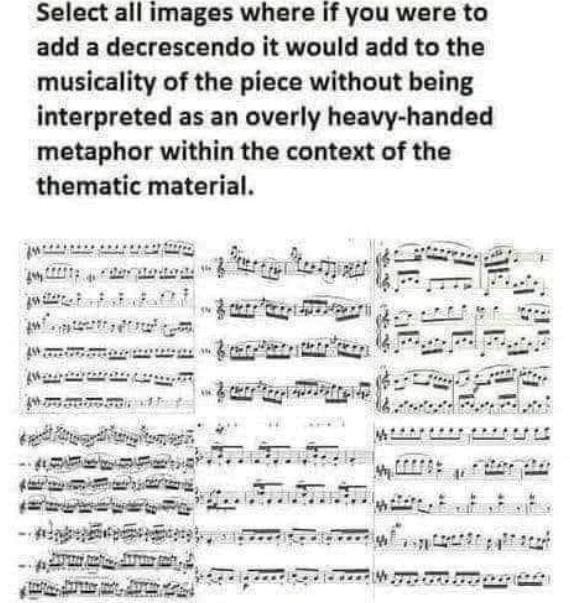 * * * * * * *
© 2022 HARBOURTOWN SOUND