2021 SPRING SHOW
It won't be long now until our 2021 Spring show is up and available online! Watch your mail!
Despite the constraints of the pandemic restrictions, we will be mounting a wonderful performance, but virtually, as we did for our 2020 Christmas show.
The format will be similar to the Christmas production, with clips from several of our past International performances, some guest-quartet appearances, and a recently-recorded song by the chorus.
In order to produce the most recent song, each member submitted two recordings to our techies, as we did at Christmas. The first was an audio recording, where each of us sang alone, a cappella; the second a video recording, where we lip-synched our parts, accompanied by the learning tracks.
All the submissions are being melded into a seamless performance of the song, which you will be able to enjoy when the show premieres.
LET US HEAR FROM YOU
If you're a fan and friend of Harbourtown Sound, we'd love to hear from you. Your suggestions for songs you'd like to hear, your ideas for future performances, or even constructive criticism of how we're doing---all would be helpful to us.
You can send us your thoughts by clicking this link--- president@harbourtownsound.ca
BARBERSHOPPERS OF RENOWN
The 2021 BHS Ontario District Barbershoppers of Renown Award winners include two distinguished members of our Harbourtown Sound chorus, Scott McCarthy and Dale Wood.

Scott, our assistant director, has been a BHS member since he was sixteen, and has sung with numerous choruses and quartets, competing in eighteen internationals, where he has placed in the top ten in the world.

Dale, a founding member of
Harbourtown Sound,
has been a BHS member for twenty years. He has sung in several quartets over the years, singing tenor and lead parts. He has held several executive positions with our chorus, the most recent of which was chorus manager.
Congratulations to both these men, who are exquisitely deserving of this honour. As President Ted Byers said, "They have colourful and extraordinary stories in the Society as performers and devoted chapter members, with a deep history of service at many levels."

REMEMBERING BRUCE BONNYMAN
Harbourtown Sound members, our families, and friends were saddened to learn of the recent death of Bruce Bonnyman, a cherished member of our chorus.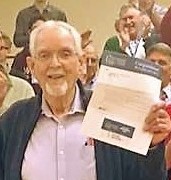 Bruce was a true legend within the Ontario District, having a decorated barbershop career over seven decades. He was an incredible director, quartet singer, and leader, a fantastic arranger and great friend. Bruce did everything with humility and a great sense of humour and fun. In memorializing Bruce, chorus director Jordan Travis quoted Isaac Newton: If I have seen further, it is by standing on the shoulders of Giants.
"For me and for so many others whose lives he touched," Jordan said, "Bruce was one of those giants."
Bruce was a 2018 winner of the Harbourtown Sound Legacy Award. We shall miss him on the risers.
Rest peacefully, Bruce. We shall never forget you.
(Thanks to Jordan Travis for this tribute.)
REMEMBERING PETER DENNETT
It is with great sadness that we mourn the recent passing of a wonderful friend and member of our chorus, Peter Dennett. Beloved husband of Anne, father of his daughter, Robyn, and best friend of his son, Andrew, a member of our chorus.
Peter was a member of the Barbershop Harmony Society for fifty-two years, and outside of his family, singing was his passion. He could sing all four parts, was a master wood-shedder, and always enjoyed coaching, teaching, and mentoring barbershoppers new and old.
Peter was a champion quartet singer with the 1980 Ontario Champions, The Halton County Road Show. He was also a champion with the Burlington Roadshow Chorus, and represented Ontario internationally with both The Toronto Northern Lights and the mighty Harbourtown Sound.
As a member of our chorus, he was greatly involved with the mentoring of new quartets, singing along joyously with whomever joined in. His riser-mates will miss him terribly.
(Information from Peter's obituary.)
FUNDRAISING 2021
Our 2021 spring fundraising campaign recently ended, successfully coordinated by Vic Linka's hardworking team. Thanks to members and friends of the chorus, we sold more than 450 boxes of product from MacGregor Meats, just in time for barbecue season---a new record!
Harbourtown Sound
is grateful to all who helped us out by purchasing this record number of product; your support is very important to us. Fundraising is a necessary, behind-the-scenes activity for a chorus such as ours to support our performances and community outreach endeavours.
Because of our inability to perform for live audiences as a result of the pandemic restrictions during 2020 and 2021, our revenues are substantially off, so this year's campaign was especially important.
COMPETING INTERNATIONALLY
For the second year in a row, the Barbershop Harmony Society World Harmony Championship was cancelled; first, Los Angeles, CA in 2020, then Cleveland, OH in 2021. Damn that Covid!
We were pleased to represent the Ontario District at International in Las Vegas, NV in 2014, Pittsburgh, PA in 2015, and Nashville, TN in 2016. We qualified to go to Las Vegas again in 2017, but declined---hard to describe what Las Vegas is like in the first week in July!
We also competed in Orlando, FL in 2018, but didn't qualify for Salt Lake City, UT in 2019. However, Harbourtown Sound has received an invitation to compete in the 2022 competition in Charlotte, NC. There are more than 800 choruses in the BHS, and only thirty qualify for International each year. We are looking forward to getting back to the big-time!
If you wonder what it's like to compete in this annual contest featuring some of the greatest choruses in the world, read on. The process starts when director Jordan Travis and his committee announce the songs we're going to sing, an announcement that marks the start of months of careful preparation.
Jordan and assistant director Scott McCarthy walk us through the message of the songs, and we work on communicating with the audience---not just with the music, but through our emotions, faces, and bodies. It's really fun seeing the songs come together as we get closer to the finish.
We're part of a team of seventy-five men, and it's nice to hear all sections---tenor, lead, baritone, and bass---getting closer to where we want to be.
Finally, it's time to travel. Depending on the location, we go by bus or car, or fly. The hotels always have practice facilities, which we use every day to stay 'honed'. As the anticipation builds, we also take time to enjoy wonderful music presentations by other competitors.
When our day to compete arrives, two motor-coaches drive us to the rear of the contest venue. We file inside and line up in correct placement, ready to go. Everything is timed to within seconds.
When we hear the applause for the previous chorus, we know it's time to move. Filing onto an almost totally-dark stage (no curtain), we quietly move into position on the risers. Our supporters are 'out there', whooping it up with enthusiastic cheers. We hear the official announcer say, Representing Hamilton in the Ontario chapter, under the direction of Jordan Travis and Scott McCarthy, please welcome "Harbourtown Sound"!
To loud applause from the thousands in the audience, the lights come up, and we listen for the pitch pipe. Jordan gives us a smile, one more thumb's up, and we're on---about eight minutes in total to sing a ballad and an up-tempo song, the very best that we can.
Before we know it, we're done, and what a feeling! We've been chasing excellence for months, and this is our reward---the sense and satisfaction of being on a great team, with a wonderful bunch of men, all doing what we love.
Afterwards, we often join the audience to listen to some of the other excellent competitors. Over the years, we've competed with choruses from New Zealand, Australia, Britain, Sweden, and many cities in the US.
Sadly, some of our members are unable to come because of health issues, work obligations, or family constraints, but they're at home, cheering us on. They will also see our performance on YouTube, where it appears after a period of time. We all have a memory that we can watch anytime in future.

If you would like to join us, you will experience the thrill of being part of one of the really good choruses that compete annually in this wonderful society.
But even more importantly, there's a lovely thought that applies: Life is only as good as the people you get to share it with.
Harbourtown Sound---what a team to belong to!
(Thanks to Larry Armatage for this piece)

EXPLAINING THE MUSIC
A few years ago, John Roach sat down to explain our music to his late sister, Gloria. Then his niece, Dawne, had some fun with the captions.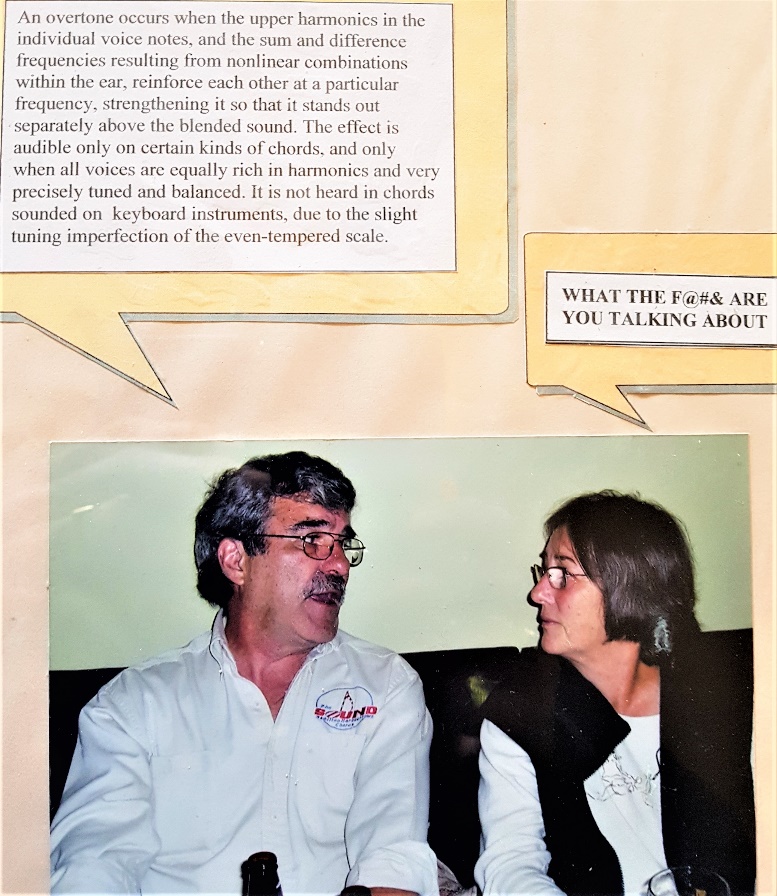 HARBOURTOWN SOUND CLOTHING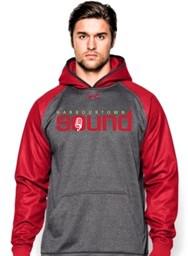 Do you believe in the old adage that you are what you wear? Well, if so, we have good news for you!
Members, family, and friends of Harbourtown Sound can order high-quality, fashionable, and affordable Under Armour clothing online, embossed with our name and logo, from Marchants our chorus supplier.
Full details as to selection and pricing, including pictures, are at this safe website---https://www.youwear.ca/HTS/ Ordering is simple and fast, as you will see from this short video---https://youtu.be/VlgfQ2uaEqs
You'll find it well worth your while to browse the selection to find something that will suit you---or a loved one---to a T.
(Sample of Harbourtown Gear.)
NAMES TO KNOW
Ted Byers, President
Phone: 416-686-1312
Email: byers5@rogers.com
Jordan Travis, Music Director
Phone: 289-838-9493
Email: director@harbourtownsound.ca
Scott McCarthy, Assistant Director
Phone: 416-452-8532
Email: scott@ombdynamix.com
Mark Yung, VP Secretary
Phone: 905-417-1052
Email: secretary@harbourtownsound.ca

Jim Taylor, VP Treasurer
Phone: 226-486-2295
Email: treasurer@harbourtownsound.ca

Vic Linka, Chorus Manager
Phone: 289-937-1905
Email: viclinka@hotmail.com
Jim Boyd, VP Marketing
Phone: 905-973-7007
Email: marketing@harbourtownsound.ca
© 2021 HARBOURTOWN SOUND