Harbourtown Sound's Christmas Show - NORTH POLE'S GOT TALENT
Saturday, November 23, 2019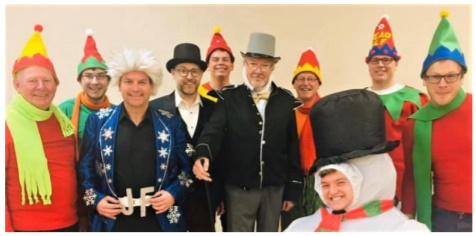 A motley cast of characters showed up on 23 November to audition for North Pole's Got Talent, the annual HTS Christmas show at the Burlington Performing Arts Centre. Somehow, it seemed like a good idea to a couple of elves to audition replacements for Santa Claus, so Jack Frost, Ebenezer Scrooge, the Grinch, Kermit the Frog, and Frosty the Snowman all took to the stage during the show's first half to make their pitch.

Although all of them performed very well, indeed, cooler heads prevailed among the judges, and good ol' Santa remained on the job.
The second half of the show featured contemporary and traditional Christmas music. One song---Mary, Did You Know?---was an obvious audience favourite.
The chorus played to enthusiastic audiences in both matinee and evening performances. Our special guest, Melissa-Marie Shriner, delighted everyone with her catalogue of songs filled with holiday cheer, helping everyone to usher in the festive season together! ... more