Singing at International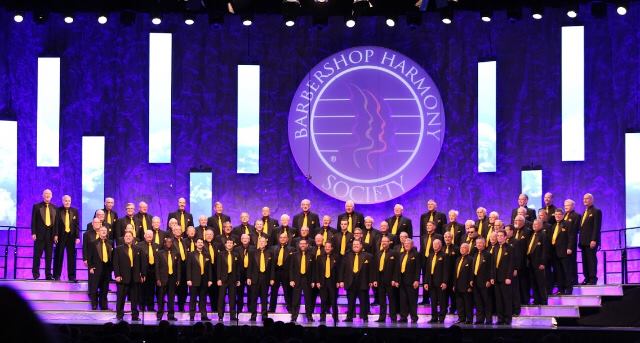 For the second year in a row, the Barbershop Harmony Society World Harmony Championship was cancelled; first, Los Angeles, CA in 2020, then Cleveland, OH in 2021. Damn that Covid! We were pleased to represent the Ontario District at International in Las Vegas, NV in 2014, Pittsburgh, PA in 2015, and Nashville, TN in 2016. We qualified to go to Las Vegas again in 2017, but declined---hard to describe what Las Vegas is like in the first week in July! We also competed in Orlando, FL in 2018, but didn't qualify for Salt Lake City, UT in 2019. However, Harbourtown Sound has received an invitation to compete in the 2022 competition in Charlotte, NC.
There are more than 800 choruses in the BHS, and only thirty qualify for International each year. We are looking forward to getting back to the big-time! If you wonder what it's like to compete in this annual contest featuring some of the greatest choruses in the world, read on.
The process starts when director Jordan Travis and his committee announce the songs we're going to sing, an announcement that marks the start of months of careful preparation. Jordan and assistant director Scott McCarthy walk us through the message of the songs, and we work on communicating with the audience---not just with the music, but through our emotions, faces, and bodies. It's really fun seeing the songs come together as we get closer to the finish. We're part of a team of seventy-five men, and it's nice to hear all sections---tenor, lead, baritone, and bass---getting closer to where we want to be.
Finally, it's time to travel. Depending on the location, we go by bus or car, or fly. The hotels always have practice facilities, which we use every day to stay 'honed'. As the anticipation builds, we also take time to enjoy wonderful music presentations by other competitors. When our day to compete arrives, two motor-coaches drive us to the rear of the contest venue. We file inside and line up in correct placement, ready to go. Everything is timed to within seconds.
When we hear the applause for the previous chorus, we know it's time to move. Filing onto an almost totally-dark stage (no curtain), we quietly move into position on the risers. Our supporters are 'out there', whooping it up with enthusiastic cheers. We hear the official announcer say, Representing Hamilton in the Ontario chapter, under the direction of Jordan Travis and Scott McCarthy, please welcome "Harbourtown Sound"! To loud applause from the thousands in the audience, the lights come up, and we listen for the pitch pipe. Jordan gives us a smile, one more thumb's up, and we're on--- about eight minutes in total to sing a ballad and an uptempo song, the very best that we can. Before we know it, we're done, and what a feeling! We've been chasing excellence for months, and this is our reward---the sense and satisfaction of being on a great team, with a wonderful bunch of men, all doing what we love. Afterwards, we often join the audience to listen to some of the other excellent competitors. Over the years, we've competed with choruses from New Zealand, Australia, Britain, Sweden, and many cities in the US.
Sadly, some of our members are unable to come because of health issues, work obligations, or family constraints, but they're at home, cheering us on. They will also see our performance on YouTube, where it appears after a period of time. We all have a memory that we can watch anytime in future. If you would like to join us, you will experience the thrill of being part of one of the really good choruses that compete annually in this wonderful society. But even more importantly, there's a lovely thought that applies: Life is only as good as the people you get to share it with. Harbourtown Sound---what a team to belong to! (Thanks to Larry Armatage for this piece