Awards
Congratulations to all the winners of these awards. Their efforts exemplify hard work and dedication to Barbershop singing.

The Barbershopper of the Year Award has been bestowed every year since 2006 to recognize exceptional commitment and service by members of Harbourtown Sound to the ideals of barbershop singing.
All winners of the award have demonstrated their dedication by exemplifying the mission of the chorus: to support local charities, while serving, educating, and entertaining community, business, and charitable organization members, as well as senior citizens and schoolchildren in the greater Halton-Hamilton region.

The Legacy Award is conferred infrequently to members who have made an outstanding contribution to the chorus, and to the world of barbershopping.
---
2018 Legacy Award
Awarded to Bruce Bonnyman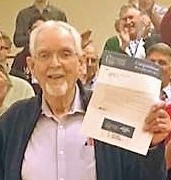 The Harbourtown Sound Legacy Award for 2018 is awarded to Bruce Bonnyman.
Bruce was born and raised in Toronto, Ontario, and took to music like a duck to water. Early on, he learned to play clarinet, saxophone, and piano, and studied harmony at the Royal Conservatory of Music. At the age of 89, he has been a barbershopper for more than 70 years.
His wish for everyone is that we may never grow too old to respond to the caress of a Barbershop chord.
---
2018 Barbershopper Of The Year
Awarded to Jim Boyd
---
2017 Barbershopper Of The Year
Awarded to Larry Armatage
---

2016 Barbershopper of the Year
Awarded to Vic Linka
---
2015 Barbershopper of the Year
Awarded to BoB Lesiw
---
2014 Barbershopper of the Year
Awarded to Pat Normally
---
2013 Barbershopper of the Year
Awarded to Dale Wood
---
2012 Barbershopper of the Year
Awarded to Barry Towner
---
2011 Barbershopper of the Year
Awarded to Brian Mills
---
2010 Barbershopper of the Year
Awarded to Chris Seaward
---
2009 Barbershopper of the Year
Awarded to Dale Wood
---
2008 Barbershopper of the Year
Awarded to Sandy Bell, Garth Spencer
---

2007 Barbershopper of the Year
Awarded to Sandy Bell, Tom Carson
---

2006 Barbershopper of the Year
Awarded to Ted Byers, Sam Sloane, Jordan Travis
---